As a spiritual director, I see myself as a spiritual companion – a listening and discernment partner. In my role providing spiritual accompaniment, I listen and reflect with individuals as they process and make meaning of their spiritual lives and experiences. I listen with people as they sit with, wrestle with, and dance with the Divine Mystery – however, they name the Divine. I have come to know the Divine Mystery through the Compassionate Liberator, Jesus Christ. I am open to all who are trying to make meaning of their spiritual life.
I identify as Black and Queer. Black as in – one connected to the shared history and experiences of all melanated people, in all times and in all places. Queer as in – unusual, not heterosexual, or bound by heteronormative ways of being. My life continues to be shaped by liberatory faith traditions, liberation theologies, and contemplative practices.
I am a graduate of the Still Harbor Spiritual Direction Practicum and a member of Spiritual Directors of Color (SDN) Network and Spiritual Directors International. I've also taken a course with the Shalem Institute of Spiritual Formation and am actively engaged in various spiritual direction communities, including the Center for Action and Contemplation.
I am particularly interested in accompanying people in various justice and liberation movements, those committed to the work of liberation, and those from historically marginalized communities.
I provide individual and group spiritual direction as well as workshops and talks on spiritual direction and the life of contemplatives.
Individual spiritual direction sessions can be virtual or in-person in the Las Vegas area and last 45-60 minutes unless agreed upon separately and generally will be held once a month. My fee is $70 per session. Don't sacrifice your well-being due to financial hardship. Let's talk options.
Group spiritual direction sessions typically consist of 4-6 people and last 2-hours per session. Rates vary based on the length of commitment.
If you are curious about spiritual direction or if you're seeking a spiritual director, let's explore the possibility – contact me.
Here's a helpful chart by Christine Luna Munger that compares spiritual direction to other helping relationships. Click the link below the images to view.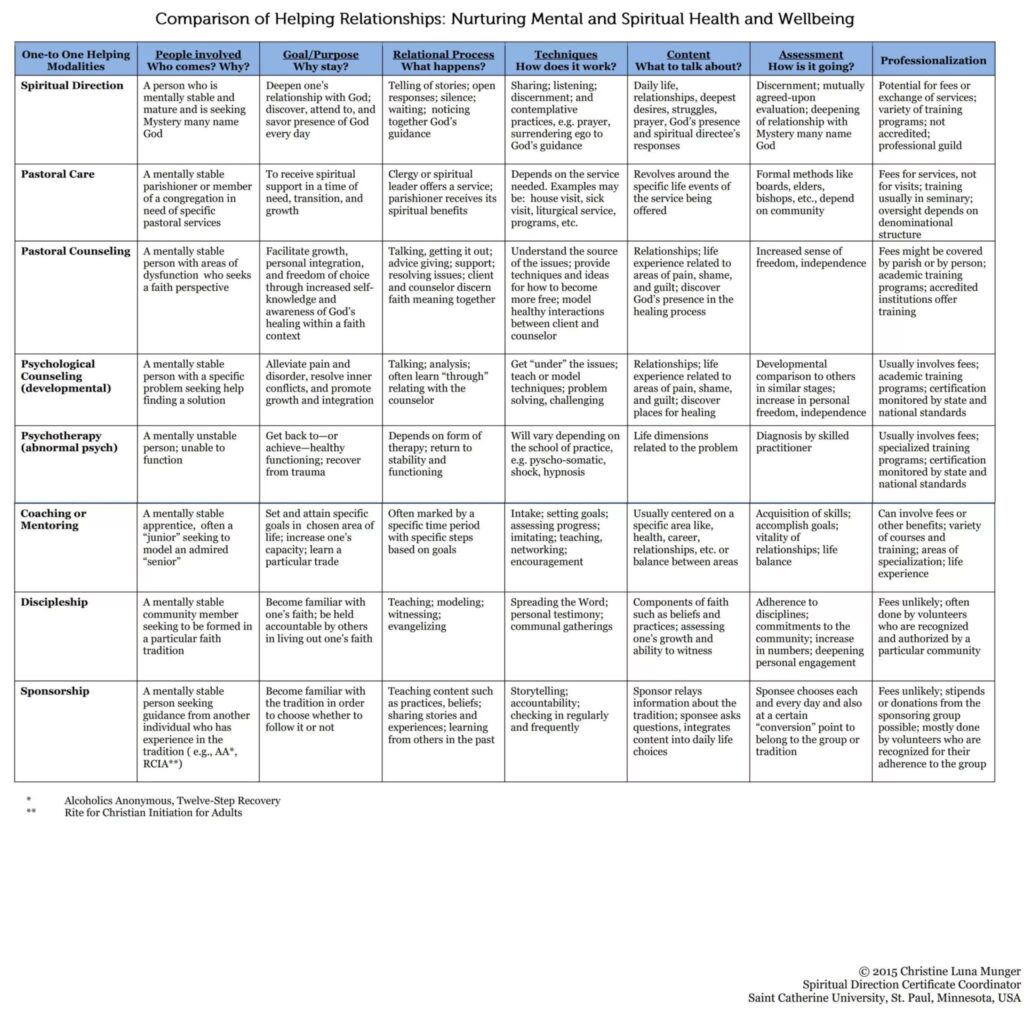 Realize Your Extraordinary Purpose ™